Description
EmbraceAIR King offers the exact same features as our EmbraceAIRPlus with additional width (+2″, 5 cm.) , height (+4″, 10 cm.), and the internal AIR bolster has a longer vertical adjustment range (11″, 28 cm).
AIR ADJUSTABLE SUPPORTS FOR YOUR COMFORT & RELAXATION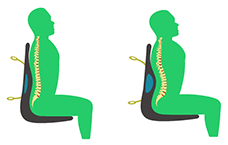 Target your Lumbar spine by raising(Top strap) or lowering (bottom strap) the Internal air cushion.
Adjust the firmness/softness by squeezing the bulb or pressing the push button valve.
Adjust air intermittently to promote back health.
Easy to use.